Contact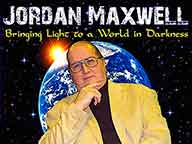 CLICK BELOW to JOIN the:
LISTEN to Jordan discuss his Research Society HERE.
To HEAR what is HAPPENING NOW
to the U.S.A. and the WORLD
CLICK BELOW:
LISTEN!
---
For RADIO / MEDIA INTERVIEWS, please contact Jordan using the form below.
The Jordan Maxwell Show exists and continues solely on donations. If you appreciate Jordan's years of massive research, unique effort, and extremely difficult work, at great personal cost, in spite of hurtful, relentless ( ad hominem ) attacks on his name and work by enemies of truth and open-minded inquiry, please donate.
or donate bitcoins:
Jordan Maxwell's presence in the
world today is
helping lead the way
out of the darkness in the minds of
men.
If you WRITE and say you NEVER RECEIVED A RESPONSE, be sure to CHECK YOUR EMAIL'S SPAM FOLDER.
Get Jordan Maxwell's
NEW!!! online videos.
Get immediate access.
Watch and listen on
your computer or device now:
CLICK Here.

1. COSMOCRATS: AND THEIR INSIDIOUS INFLUENCE
2. REVEALING AN ANCIENT MYSTERY
jordanmaxwellvideos.com
PUBLIC SERVICE ANNOUNCEMENT
Jordan Maxwell RECEIVES NO MONEY SENT TO:
jordanmaxwellvideos.com
On that website there are PayPal links on pages for "Research Society" and "Jordan Maxwell Show." Jordan Maxwell RECEIVES NO MONEY SENT to jordanmaxwellvideos.com. That money goes to someone called "Alex Black," once affiliated with Jordan, taking money in Jordan Maxwell's name. Jordan receives nothing from "Alex Black" for use of Jordan's name, image, and work.

This website you are on now, jordanmaxwellshow.com, is Jordan's website, and donations made here go immediately and directly to Jordan. The same applies to jordanmaxwellresearch.is. Watch and listen to this video by Jordan, who explains and shows to the public these websites ARE Jordan Maxwell's:
Help Support Jordan Below
If you want to help Jordan continue his work, please donate here:
or donate bitcoins:
Jordan talks about his Research Society
Jordan outlines a very important overview of his work on Art Bell's DREAMLAND — 19-March-1995
Jordan in his own words
2004 Maverick Award — Jordan Maxwell
Jordan Highly Recommends
NOSTRADAMUS Astro-Readings
CLICK HERE to GET your READING
GET Jordan Maxwell's Original Videos