Contact
Always one with the Divine Presence in the Universe
Jordan Maxwell
28 December 1940 - 23 March 2022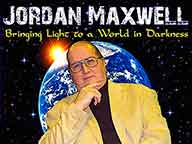 To HEAR what is HAPPENING NOW
to the U.S.A. and the WORLD
CLICK BELOW:
LISTEN!
---
Please contact the Jordan Maxwell Show using the form below.
Jordan Maxwell's presence in the
world
helped lead the way
out of the darkness in the minds of
men.
If you WRITE and say you NEVER RECEIVED A RESPONSE, be sure to CHECK YOUR EMAIL'S SPAM FOLDER.
GET Jordan Maxwell Videos
jordanmaxwellvideos.com
Jordan outlines a very important overview of his work on Art Bell's DREAMLAND — 19-March-1995
Jordan in his own words
2004 Maverick Award — Jordan Maxwell
More Videos From Jordan Maxwell
Jordan Highly Recommends
NOSTRADAMUS Astro-Readings
CLICK HERE to GET your READING
GET Jordan Maxwell's Original Videos